Gavin Pritchard-Gordon
Racing has been my life, ever since I first came to Newmarket in 1966, to be a pupil trainer with the greatly respected Harvey Leader – one of the very few people to have trained both a Classic and a Grand National winner. I then spent similar spells as Assistant to Peter Walwyn in Lambourn, and Stuart Murless, on the Curragh, before returning to Newmarket, and taking over the trainer's license from Harvey Leader, at Shalfleet, in 1972.
The best horses I trained on the Flat were Group 1 winners Noalcoholic, Ardoon and Record Run – but one of my most exciting moments came when King Pele, ridden by the intrepid David Nicholson, triumphed in the Gloucester Hurdle (now the Sun Alliance) at the Cheltenham Festival in 1973.
I stopped training in 1995, spending a year with the fledgeling BHB in Portman Square, before being invited to become Chief Executive of the Thoroughbred Breeders Association In Newmarket. A position I held for fifteen years, prior to being appointed Executive Chairman of British Bloodstock Marketing, from which I retired in November 2010.
I now have every intention of remaining closely involved with all aspects of the Racing and Breeding Industry worldwide – and very much look forward to working with Jim Wordsworth, and his excellent team at Anglo Hibernian, for the foreseeable future.
— Gavin Pritchard-Gordon
Introductory Authorised Representative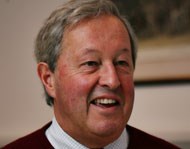 Contact Us
Send an online request or give us a call on 01638 669 930 and someone from our team will assist you