Denise Hitchcock
I left school at the age of 16 and began studying for the ACCA qualification with a firm of Chartered Accountants in Bury St Edmunds. I continued studying for my qualification even though I left the accountancy practice to take up an accountancy role in the manufacturing industry.
I made the switch to bloodstock insurance in 1987 when I was employed as the Accountant for Bloodstock and General Insurance Services Limited – BGI. Willis Faber & Dumas Ltd subsequently acquired BGI and I remained with the company until I took a break to start a family in 1994.
In 2000, John Hancock started JH Insurance and recruited staff from the old BGI. I rejoined the bloodstock insurance world for a few hours a week. However, my hours and responsibilities grew as I took a more active role in the bloodstock side of the business. The company was then purchased by Anglo Hibernian in 2006.
Now, as a Director and Account Executive at Anglo Hibernian, I am responsible for the clients' insurance needs and for the company's own control accounts.
Denise Hitchcock | Director and Account Executive
Tel: 07749 837594
Email: denise@anglo-hibernian.co.uk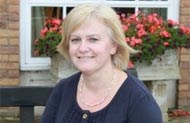 Contact Us
Send an online request or give us a call on 01638 669 930 and someone from our team will assist you