Claudine Butler
I started working for Anglo Hibernian in 2001 shortly after completing a Higher Diploma in Business and Administration procedures at West Suffolk College. This was my first experience of working in the industry from behind a desk having previously spent my formative years working in racing, riding out and latterly in a role as a travelling head lass, along with two summers on the East coast of America with Graham and Anita Motion.
This time of actually working with horses has proved to be incredibly helpful, as it is so good to have a good grass roots knowledge of the bloodstock world whilst doing this job and has been invaluable to me when liaising with clients and handling complex claims over the years. I am always drawing on my experience from my riding out days.
In my position as a Director and Account Executive at Anglo Hibernian I have varied roles from dealing with clients on a day to day basis, starting with renewals and new business all the way through to arranging and binding the insurance policies and when necessary organising claims. I also handle a small amount of monthly management accounting.
I still ride out occasionally but this is mostly limited to my daughters pony these days!
Claudine Butler | Director and Account Executive
Tel: 07557 883255 
Email: claude@anglo-hibernian.co.uk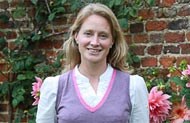 Contact Us
Send an online request or give us a call on 01638 669 930 and someone from our team will assist you